Create Perfect Landing Pages with these 15 Tips
Happy Landings for Your Visitors
What happens with your visitors when they land on your site? Are you doing enough to shape their experience into one that's relevant to them? Is it a comfortable transition to your site? Is it good for your sales?
It's wise to spend time planning a landing page and optimizing each part of it as well as testing each to see what works and what doesn't.  I've got 15 tips on how to make your pages perform.
A landing page might be the page your Google Adwords ads point to, or Twitter campaign frequently points to, or a high ranking page on Google search. It can be a page they arrive at while using their smartphone. The visitor has touched down from their web journey and they're awaiting your direction and messages.
Before we get into the details of optimization, think about your own experiences in finding a new website. Were you delighted on first sight? Did it help you make a decision? Did it have the information you needed? 98% to 99% of visitors will leave if they're frustrated or feel you don't have what they want. That's a whole lot of failure.
Landing Page Optimization
Too few businesses test and improve their landing pages. The result? Lacklustre sales and higher advertising costs. A landing page is a key sales generator and deserves patience and persistence in improvement. Testing is absolutely needed to make it perform and you'll be swapping out elements to see what works best.
When you're designing/building your landing page(s) there's a few things you need to keep in mind such as; your visitor/prospect's problem, need or pain; where they arrived from; what stage of the buying cycle they're in; and what the specific purpose of this page is.  This will help you tailor your page and your selling message so it's most relevant to them.
A Comfortable and Easy to Understand Navigational Path
Eye tracking studies show that people view in a Z or F pattern for the most part.  You can discover how visitors may see your page by using a heat map visualization tool such as Crazy Egg or Visual Website Optimizer.
Key images or headings need to be in the upper left-center, and all important material needs to be above the page fold, visible right away in their browser. If you arrange your page elements strangely, it will almost certainly result in lost visitors. People want comfort and ease when reading and shopping online.
Empathizing with visitor's experience and knowing what to give them in a timely manner is key to creating an amazing landing page.
Try these 15 tactics to help you convert better.
Eye-Catching Page Headlines (Your heading should draw the eyes and hook the reader with a question, key point, or solution to their problem).
Clear, flowing layout perfectly structured to allow the reader to collect information and build desire naturally. Lots of white space that lets them glide through to a decision to buy your product.
Clear, informative copy that expands on benefits implied in headings. Copy is brief and written in the AIDA, ASK, IEC or PAPA formats (copywriters know that stuff. You should hire one).
Compelling imagery that supports the promise in the copy.
 Copy and images that convey your product's unique value proposition and your selling proposition. What makes your product clearly distinguishable and better than competitor's?
Credible trust signals. Logos, certifications, endorsements and even testimonials help to communicate credibility
Limit the number of clickable links on the page to only those that lead to a direct sale or response, or, occasionally to more information
Use attractive forms to make the visitor more comfortable about providing personal information
Provide a contact button for phone or email support because your page won't answer all possible questions or doubts.
A strong call to action (if you know your customer, you can urge them to take action with the right text cues).
Buttons are highly visible and enticing to click
Use graphics/videos that relate closely to the copy: focus your message to make the biggest, focused impact
Always be testing. Test one variable at a time to determine which landing page elements increase clicks and conversions.
Social proof. Material from your Facebook or Twitter page that supports your statements in the copy.
Perfect grammar. It's one page you don't want to see any errors on because your visitors expect and need a flawless experience.
Automated Conversion Rate Optimization Software
There is software that can help you with the process of building landing pages and even testing its content for maximum results. They can be helpful, but please don't get distracted from the most important matter of understanding your visitors and customers. You can take lessons at Unbounce.com as well.
Are you communicating clearly that you have the solution to their pain? Are you using an exit pop up form when you discover the visitor is leaving your site, to ask them why they're leaving?
Revise, edit and redesign as required to build a landing page that converts. Testing may be one of most important assets you have at your disposal.
To read more about Implementing a People-Based Landing Page Strategy read this post about it from Big Commerce.
Landing Page Infographic: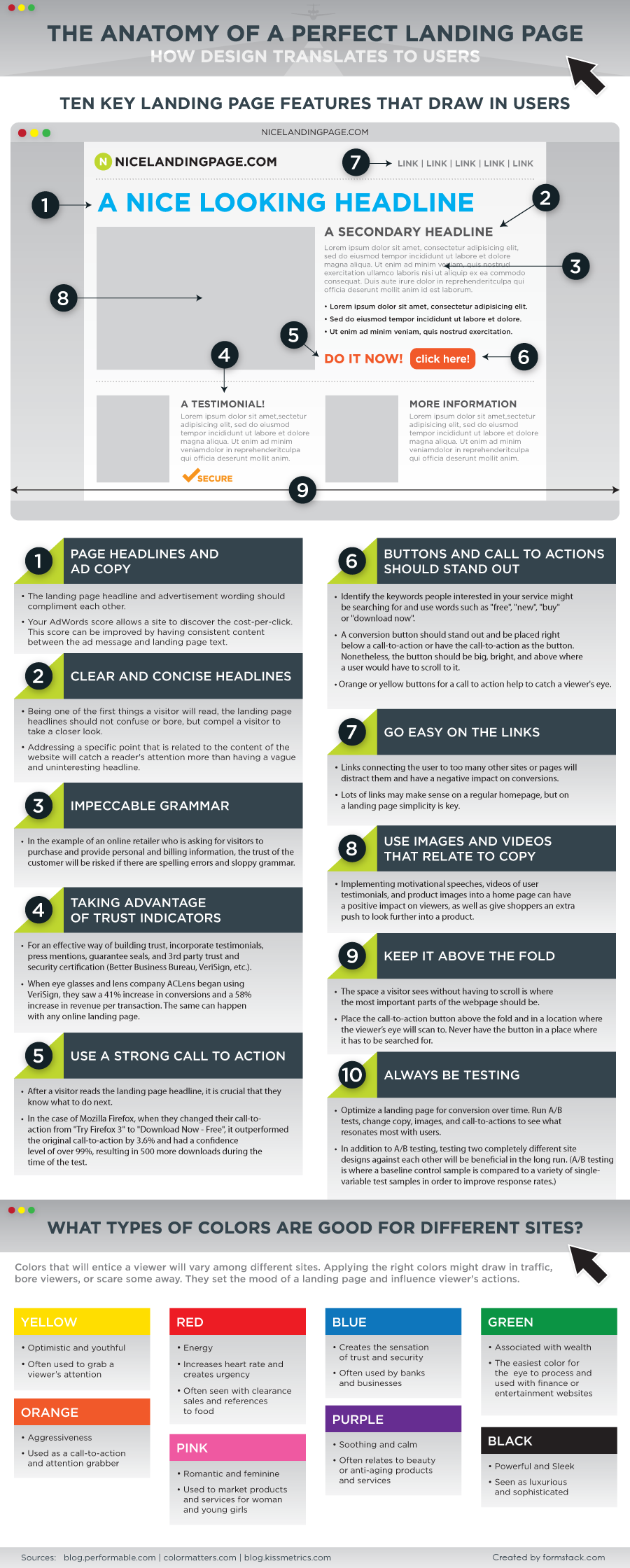 Anatomy of a Perfect Landing Page DesignEmbed this on your site